It is with great sadness that I report the passing of Professor Hans (J.T.P.) de Bruijn, the renowned author of Of Piety and Poetry, and my beloved, generous and learned mentor and friend, a man of outstanding integrity and erudition. He was first my teacher, then my PhD supervisor and remained my support and refuge after his retirement. I sparred over new ideas with him, and he was a source of inspiration. Over the years, he had become like a father to me.
Professor de Bruijn was born on 12 July 1931 in Leiden and died on 23 January 2023 in Voorhout, the Netherlands. He studied Semitic languages, and as minors Persian and Turkish at Leiden University. From 1954 to 1960 he collaborated in the Concordance et Indices de la Tradition Musulmane project, which was published under the auspices of the Royal Netherlands Academy of Arts and Sciences (KNAW) in Amsterdam. He also contributed to the editing of the English version of Jan Rypka's History of Iranian Literature, which was published in Dordrecht in 1968. From 1960 to 1963, he was Curator of the Middle Eastern Department at the Dutch National Museum of Ethnology. In 1964 he joined the staff of Leiden University, where he took the chair of Persian in 1988. He built up a Persian department that included expertise on Shiism, Sufism, and modern Persian literature.
From our first meeting in 1989 at the Witte Singel Complex in Leiden until a few years ago before he fell ill, he kept making plans to advance Persian and Iranian Studies. He was without doubt a pillar in our field in Europe and his passing creates a deep scholarly gap in the field. He was an inspiring authority on Persian literature, Islamic mysticism, Iranian languages and linguistics, and Iranian history.
Professor de Bruijn collaborated with major projects advancing the field of Persian and Iranian Studies. He collaborated with the late Dr Ehsan Yarshater, first as an advisor and contributor to Encylopeadia Iranica and later as a vice-chair and editor of the 20-volume History of Persian Literature. His entries for the Encyclopaedia Iranica cover Persian literature, the history of Oriental Studies, and Persian manuscripts. Another collaboration which certainly deserves to be mentioned here is his contribution to the Encyclopaedia of Islam, New Edition (1970-2005). He was involved with this Encyclopaedia project for a long time, as an executive member, but also as a regular contributor. He published articles on Persian culture, literature, religions and history. In the last ten years of his active career, he was entirely devoted to editing the first volume of the History of Persian Literature and writing chapters for other volumes. Several of these chapters have the scope of books. His outstanding chapter on the Persian ghazal offers an indispensable survey of the genre in Persian literature, a model of how to analyse Persian ghazals, of how these poems can be approached as texts for religious and secular rituals, and why they became a central poetic form in Persian and, under Persian influence, in other Islamic literatures.
Professor De Bruijn will be chiefly known for his erudition on classical Persian poetry, especially religious poetry. His name is linked with that of the great poet Ḥakīm Sanāʾī (d. 1131), as he spent many years of his active scholarship on this epoch-making poet.
He was a true javān-mard, a gallant, self-effacing person whose life was to serve others through the dissemination of knowledge about Persian culture and Sufism. I shall deeply miss his smile, his gestures, his humour and his enthusiasm. Especially I shall miss his morally upright attitude and his commitment to students, friends and colleagues. I shall cherish the uncountable moments we shared as companions.
I would like to finish this in memoriam with the following quatrain by Omar Khayyam that we read together just two weeks ago.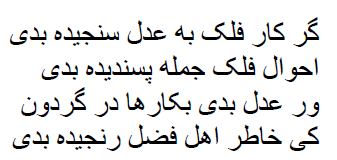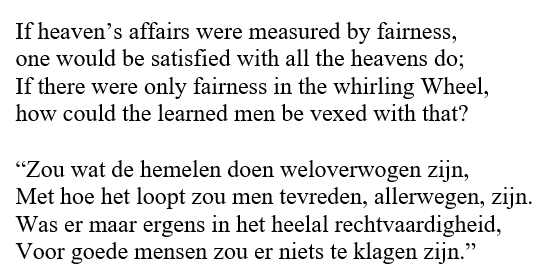 Asghar Seyed-Gohrab
Professor of Persian and Iranian Studies
Department of Philosophy and Religious Studies
Utrecht University
An elaborated in memoriam will appear in February 2023